Senior lounge and users. Live where others
vacation.
At Montebello, we have created a community where anyone who chooses to live with us can do so with the peace of mind that all of their needs will be met.
We offer you the opportunity to stay with other people with whom you can share interests, hobbies and activities. At the same time, you maintain your independence in private apartments and quiet spaces where you can enjoy moments of solitude.
Our condominium is ideal whether you are looking for a temporary or permanent residence, since all our apartments are independent.
The center is located in a safe and quiet environment, close to nature and therefore free from noise and pollution.
The accommodations have all the services and amenities you could wish for and an attractive environment such as large beaches, a shopping center, picturesque towns ideal for spending a day or hiking trails to enjoy the mountain landscape. An environment that invites you to feel good and in which you can decide for yourself how you want to live.
Our accommodation
We offer the possibility of renting furnished and unfurnished houses, so you can customize them to your liking. You can also choose the size and style of the house and share various activities with other residents.
All our accommodation includes:
Living room
One, two or three bedrooms
Kitchen integrated or independent from the living room
Bathroom (two and three bedroom homes also have two bathrooms)
Gallery
Terrace, most with sea view
Built-in wardrobes
Our tenants also benefit from maintenance services, cleaning, personalized attention, catering in our restaurant or at your home, 24-hour reception, etc.
Facilities
Swimming pool, various terraces, gardens, private lounges, infirmary, chapel, games room, dining room and much more…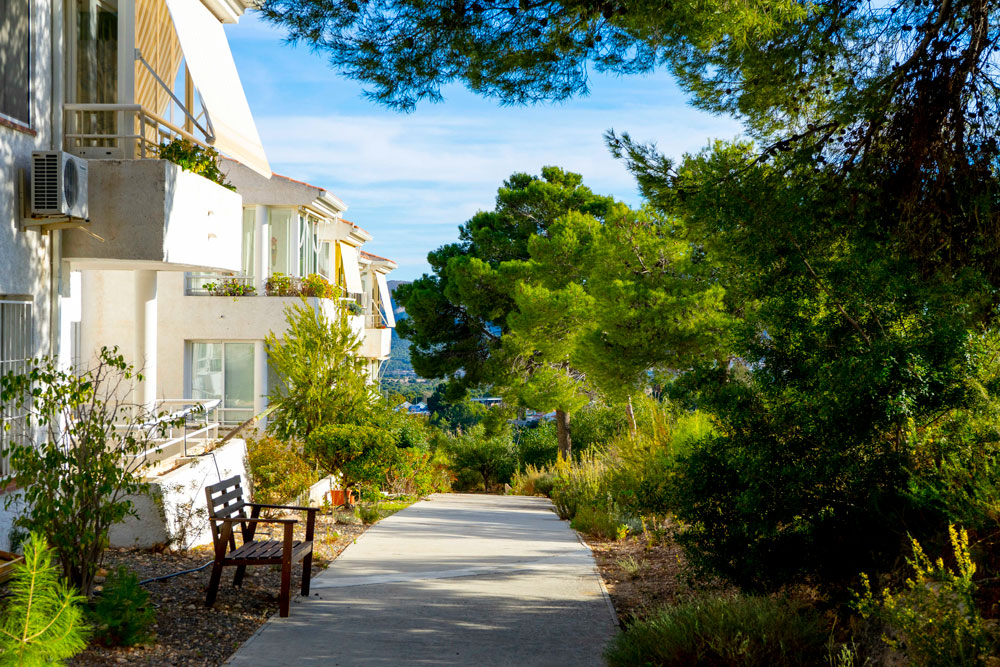 In addition to your own space, in our common rooms you also have the opportunity to share your daily life with other residents of different nationalities:
Dining room
Coffee
Care
International restaurant
Living room and television
Library
Press room and internet
Garden
Gym
Indoor and outdoor swimming pool